Common breeding problems in pet birds and the best ways to tackle them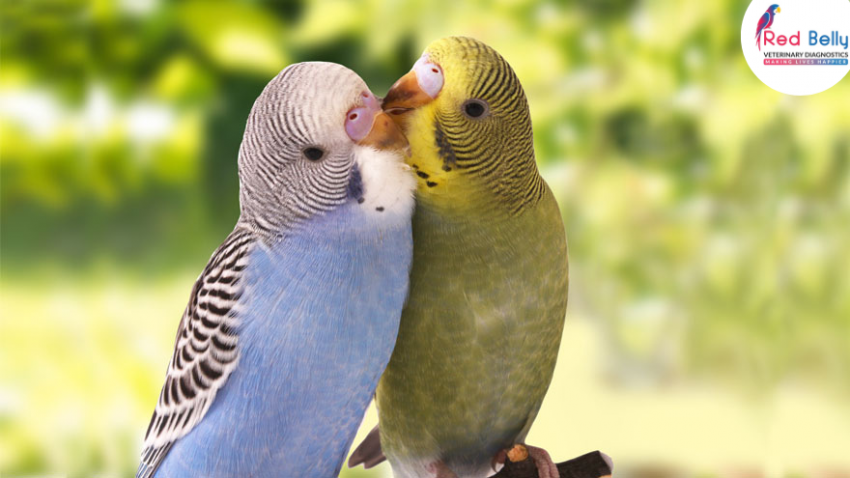 Breeding birds is the best way to create a bloodline for your pet bird. However, breeding birds is not easy. It takes a lot of effort, skill, and patience to breed a pair of birds. And even then, it's not guaranteed that your birds will breed successfully. Before you begin the process of breeding, it's essential to know your birdie's gender. Bird DNA testing will not only help you know your bird's gender but also guide you about its requirements during breeding. To make the breeding process easier and stress-free, the Redbelly veterinary diagnostic center team is here with a blog. The blog dives deep into common breeding problems in pet birds and the best ways to tackle them.
Egg Binding – Dystocia (egg binding) is a condition in which the bird faces difficulty laying an egg. It is a most common occurrence in hens, cockatiels, budgerigars, and lovebirds.
Causes – Calcium and Vitamin A deficiency in the diet, abdominal wall herniation, being a first-time layer, and genetic factors are the common causes of egg binding. When not treated at the right time, egg binding can turn severe and cause death in some cases.
Signs – Depression, dropping of the wings, inability to balance on a perch, dizziness, difficulty breathing, and distended abdomen are the common signs of egg binding in birds. If you notice any of these signs in your breeding bird, it's important to take the bird to an avian veterinary diagnostic center and get the problem resolved.
Egg Yolk Peritonitis – Egg yolk peritonitis is when the yolk does not enter the oviduct and instead enters the abdominal cavity, it causes inflammation to the membrane lining (peritoneum) of the abdomen. It can occur in any bird species, but it is most common in cockatiels, budgerigars, lovebirds, and macaws.
Causes – Common causes of egg yolk peritonitis include ruptured oviduct, reverse peristalsis, stress during ovulation, and genetic factors.
Signs– Fluffed feathers, enlarged hard abdomen, lethargy, aggressive behavior, and respiratory distress are the common symptoms of egg yolk peritonitis. When not diagnosed by a veterinary diagnostic expert at the right time, the condition can turn severe and might even put the bird's life at risk.
Cystic Ovarian Disease – Cystic ovarian disease is the most common disease among pet birds. It is an endocrine disease, in which the bird's ovaries become swollen with fluid. The fluid-filled cysts cause the ovaries to become enlarged and distorted. These enlarged, fluid-filled ovaries are referred to as "ovarian cysts".
Causes– The condition is most commonly caused by infections of ovaries with pathogenic organisms like E. coli, Coccidia, Polyomavirus, etc…
Signs – Depression, inactivity, abdominal distention, ascites, and often dyspnea, are the signs of cystic ovarian disease. Diagnosis of this condition is similar to other reproductive diseases and often ultrasonography is used to detect cystic follicles, in addition to normal follicular development.
Clear eggs – Clear eggs are eggs that have not been completely fertilized. This is often caused due to a poor 'hormonal' synchronization of the male and the female bird. However, an unsuitable living environment and an unbalanced diet with deficiencies in vitamin E and Selenium can also cause clear eggs. Supplementation with the mineral selenium and Vitamin E before and during the breeding season, with a healthy and balanced diet and suitable complimentary food, will promote successful egg fertilization in birds.
Behavioral problems – Common behavioral problems during breeding include feather plucking, mutilation, aggression, and excessive screaming. Quite a time, these conditions can also occur due to different reasons. So, it's essential to visit a veterinary diagnostic center nearby to diagnose the root cause of the problem. Below are a few tips to tackle behavioral problems of breeding in birds.
Provide a healthy and balanced diet
Reduce stress levels and ensure that the bird is getting healthy sleep
Provide a lot of plays to play with while you aren't around
Be gentle and patient with your bird
Place the bird's cage in a good location
Go for supplementation with advice from a veterinary doctor
Allow access to mild sunlight during the morning and late evening
Ensure proper exercise for your birdies
We hope you enjoyed our blog about common breeding problems in pet birds and how to tackle them. With this knowledge, we know that you can make the most of your bird breeding, helping you to produce healthy and happy birds that make wonderful companions. So what are you waiting for? Start breeding today! If you have any other questions or concerns about breeding birds, do not hesitate to drop a comment below. At Redbelly veterinary diagnostics we offer all kinds of avian diagnostic services including bird DNA testing, PBFD test, and PCR-based screening. Visit our website to know more about our services or to book an appointment with us. You can also call us at the number provided on the website. We would be glad to get in touch with you and your bird. Thank you for reading!